Our new target: £750,000 for a dedicated Breast Cancer Unit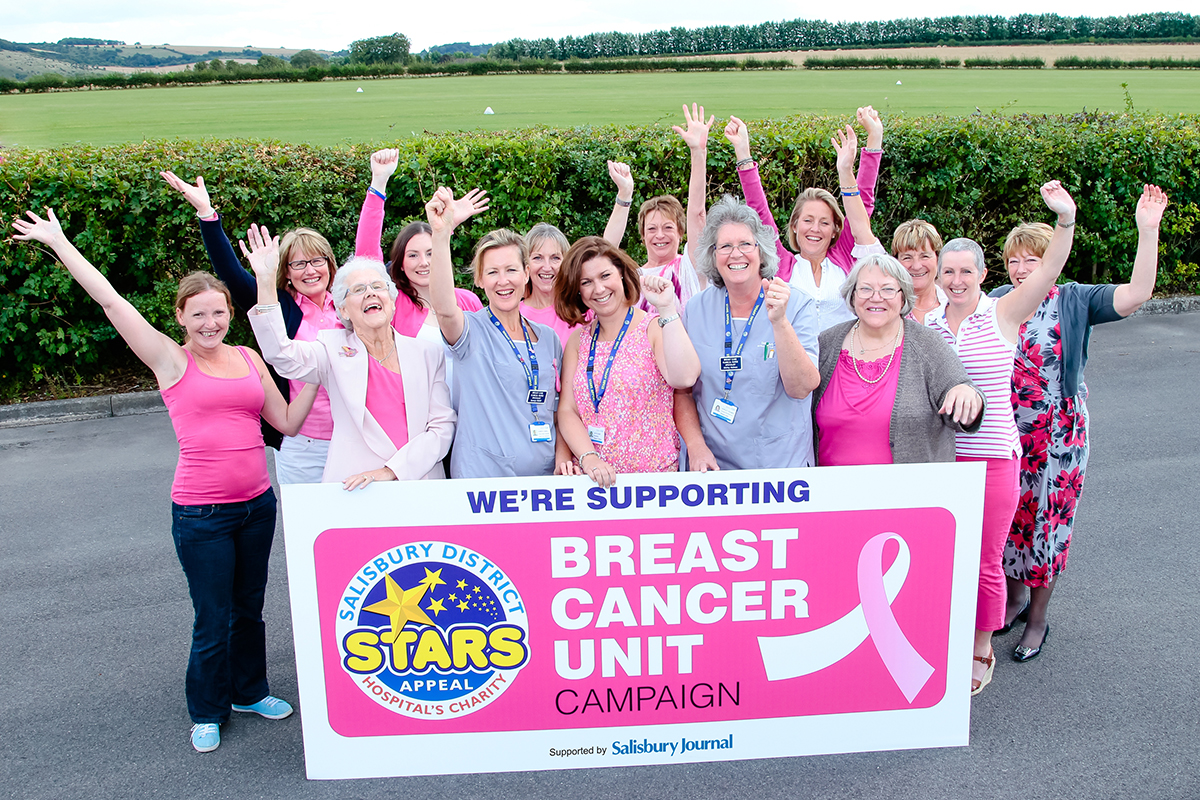 Our Breast Cancer Unit Campaign aims to raise £750,000 to provide a much needed dedicated Breast Unit at the hospital.
One in eight women will develop Breast Cancer in their lifetime and breast cancers treated in Salisbury have increased by nearly 40% in the last two years. Whilst the Hospital's specialist breast care team offer excellent care, the number of patients they see is growing fast and now they urgently need a dedicated Breast Unit to provide even better, quicker and more dignified care to the 4,500 local women, and the small number of men, they see each year. Currently, as in many general hospitals in England, there are no dedicated facilities for breast patients.
The new Unit will provide the best possible environment for local women. Purpose-built waiting, diagnostic and treatment rooms will be dedicated entirely to breast patients. Counselling rooms will be available to patients who have just received a cancer diagnosis or who need support. Sensitive design and décor will create a calm, light and dignified environment.
The new Unit will enable quicker care and treatment. The dedicated facilities will mean most care will be delivered in one place with no need for patients to visit other departments in the Hospital, repeatedly dressing and undressing for these procedures.  Thanks to the increased space, and availability of state-of-the-art equipment, patients attending for tests to see if they have breast cancer will receive their diagnosis on the same day, avoiding anxious waits for results. Clinics will be run jointly with oncologists and plastic reconstructive surgeons, meaning patients will no longer need to visit the hospital as frequently.
We are asking local people to support the campaign to raise the £750,000 needed for the dedicated Breast Unit as soon as possible. Our fundraising for the Unit has already had a great start with over £190,000 collected since the end of our last major campaign. Forthcoming events for the campaign include the Berwick St John Country Fayre this weekend, The Rockbourne Fair at Salisbury Racecourse 22nd-24th October and the Tidworth 10k on Sunday 2nd November.
Click here to find out more about the campaign, and read Joanna's patient story.
"The day our patients find out they have breast cancer, their world changes forever.    Suddenly their life isn't their own, they worry what will happen to them and what the future may hold.  We aim to make them feel safe, provide emotional and practical support, and co-ordinate their treatment and pathway of care.  The new Breast Unit will give them faster diagnosis and first-class treatment, where patients can easily find the appropriate support in a dedicated and sensitive environment. Sisters Shirley Holmes and Sonnya Dabill, Breast Specialist Nurses 
"The breast care team in Salisbury want to be able to offer our patients the very best possible care. That care starts at their first visit to our breast clinic. With dedicated facilities for breast patients we can do this. A dedicated Breast Unit would provide a sanctuary where our ever increasing numbers of patients will be seen in a timely, coordinated manner. Mammography and ultrasound would be provided with dignity and the minimum of dressing and undressing. Patients would get their results on the same day. Our patients who are diagnosed with cancer need regular appointments for at least five years. The Unit would make their treatment easier. They would come to one place for diagnosis, results, counselling, prosthesis fitting and follow-up appointments to discuss reconstruction. A dedicated breast unit would aid patients' recovery, and make a world of difference to the thousands of local women we treat" Miss Vicky Brown, Consultant Breast Surgeon 
"We are hugely grateful to the local community for their support of the Stars Appeal which has funded so many new facilities and, in turn, helped tens of thousands of local people. Please help us make this much needed Breast Unit a reality as soon as possible. Thank you." Dr Nick Marsden, Chairman of Salisbury District Hospital
Please support the Breast Cancer Unit campaign and help us reach our target. Donate here, and find out how else you can help here
 THANK YOU
Subscribe to our email newsletter