Initial £750,000 target reached for Breast Unit!
Thanks to the enormous generosity of local people and a fantastic run of fundraising events we are delighted to announce that we have reached our initial £750,000 target for the Breast Cancer Unit campaign!
Over the last 11 months, supporters have climbed mountains, held parties, walked, ran and cycled while others organised events ranging from fun days and fashions shows to street collections and, in one case, opening up a dinosaur park! We have also received hundreds of generous donations from kind-hearted local individuals and organisations, many of which will be recognised in the new unit. The unit itself will be named after retired engineer David Brown who made a particularly substantial donation to the campaign. We salute, and record our huge thanks, to each and every person who has supported the campaign to date.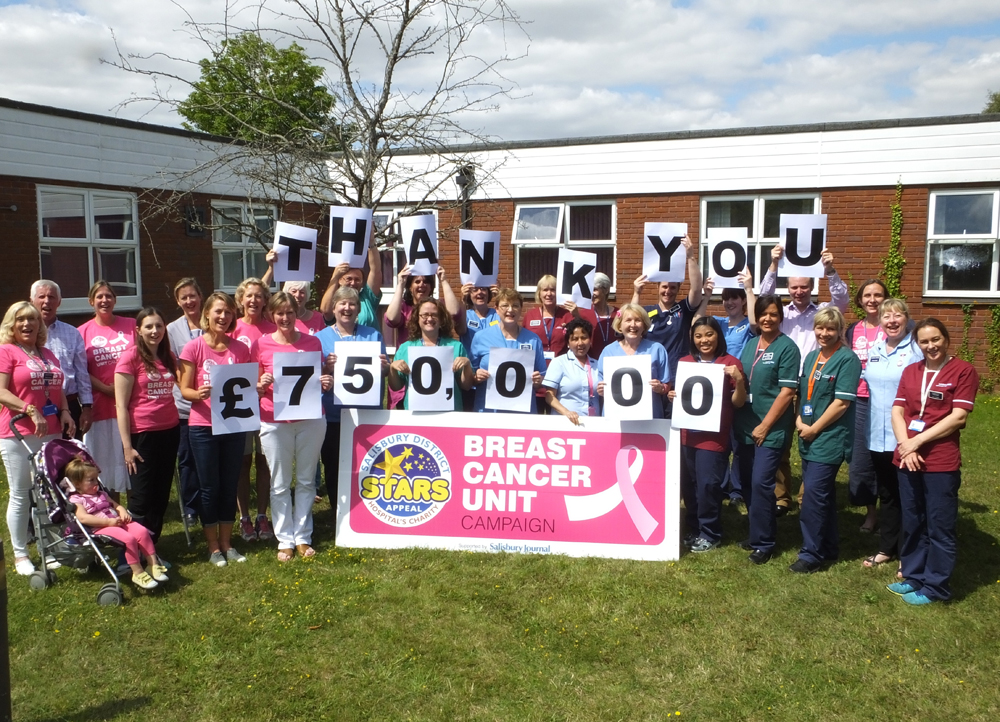 Plans have already being drawn up with building work anticipated to commence in October and the Unit opening in summer 2016.
Although the initial target has been reached, we are thrilled that fundraising is continuing to fund additional enhancements and equipment for the Unit and improve support services for patients. Over the coming months a number of events are already planned including an ABBA concert hosted by legendary BBC Radio 2 DJ Johnnie Walker at Salisbury City Hall and a Gala screening of the new James Bond film Spectre. Find out more about these events here and learn about other ways you can support us here
The new Breast Unit will enable quicker care and treatment. The dedicated facilities will mean most care will be delivered in one place with less need for patients to visit other departments in the Hospital, repeatedly dressing and undressing for these procedures.  Thanks to the increased space, and availability of state-of-the-art equipment, patients attending for tests to see if they have breast cancer will receive their diagnosis on the same day, avoiding anxious waits for results. Clinics will be run jointly with oncologists and plastic reconstructive surgeons, meaning patients will no longer need to visit the hospital as frequently. Find out more about the benefits of the new unit here
"From the launch of our campaign we have been humbled by the generosity, fun, enthusiasm and hard work of people from all walks of life, our patients and our local community. Their generous donations and support will build a unit which will enhance the experience for people needing breast investigations and breast cancer patients undergoing care. The team are excited now the planning phase, in which several of our patients are involved, has begun and we are looking forward to working with patients and our hospital colleagues to create a warm, welcoming and dignified environment for the thousands of local women, and some men, that we are proud to serve."  
Specialist breast care nurses Shirley Holmes and Sonnya Dabill
Subscribe to our email newsletter