Kia Picanto is the star prize in our online Christmas Raffle
A brand new Kia Picanto worth over £10,000, supplied by local car dealer FJ Chalke of Mere, is the star prize in our ONLINE Christmas Raffle. The second prize is £500, third prize £250, and there are many more cash prizes too. Tickets are just £1 each and available ONLINE this year on our dedicated Christmas Raffle page.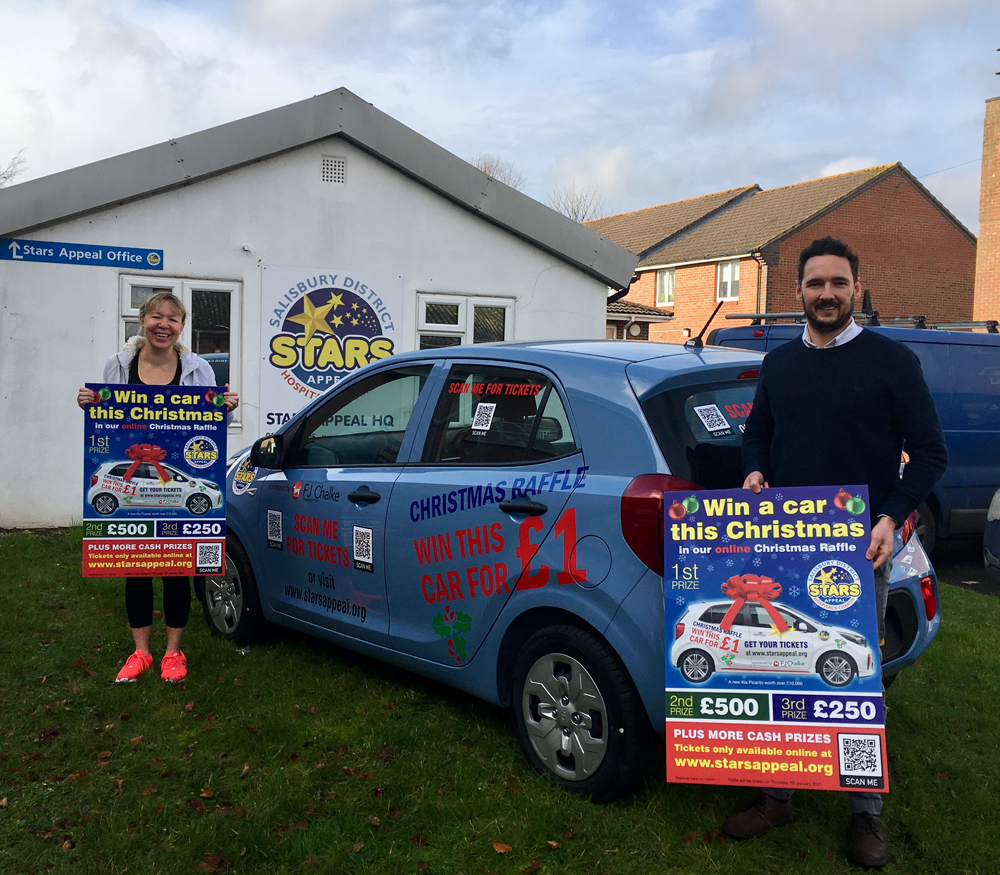 (Pictured: Miss Melissa Davies, Consultant Urologist and Stars Appeal Ambassador, with George Chalke of FJ Chalke Mere)
Money raised by the raffle will help us towards the £1million that we aim to raise this year to fund projects at Salisbury District Hospital helping thousands of patients and the NHS staff who care for them. Projects we are currently fundraising for include free Wi-Fi, accommodation for the parents of poorly babies and children, support for staff, programmes of entertainment and support for older people in hospital, and state-of-the-art equipment for areas such as the eye clinic and Pembroke cancer unit. You can read full details of these projects and many more, on our wish list section here.
George Chalke, Managing Director of FJ Chalke, said: "Having seen first-hand how local people benefit from projects funded by the Stars Appeal, like the new breast unit, the two CT scanners and neonatal family accommodation unit, we were delighted to offer our support once again."
Miss Melissa Davies, Consultant Urologist and Stars Appeal Ambassador said "The online Christmas raffle is a wonderful opportunity to support the Stars Appeal – Salisbury Hospital's Charity, with the chance of driving away in a brand new car. Every ticket sold will help make a difference for patients at Salisbury Hospital. Thank you and good luck!"
Tickets are £1 each and are available ONLINE only this year.
Entry closes on Wednesday 6th January. The draw will take place on Thursday 7th January 2021.
Subscribe to our email newsletter